Profile Update - Merlin's 4G Time Attack Lude
Merlin's 4G Time Attack Lude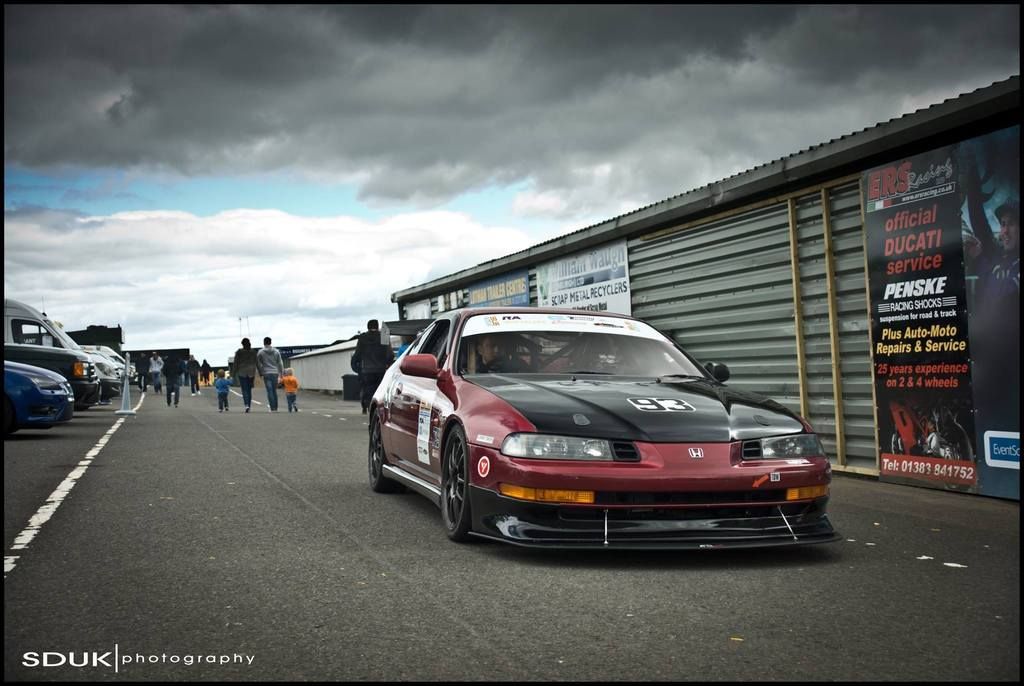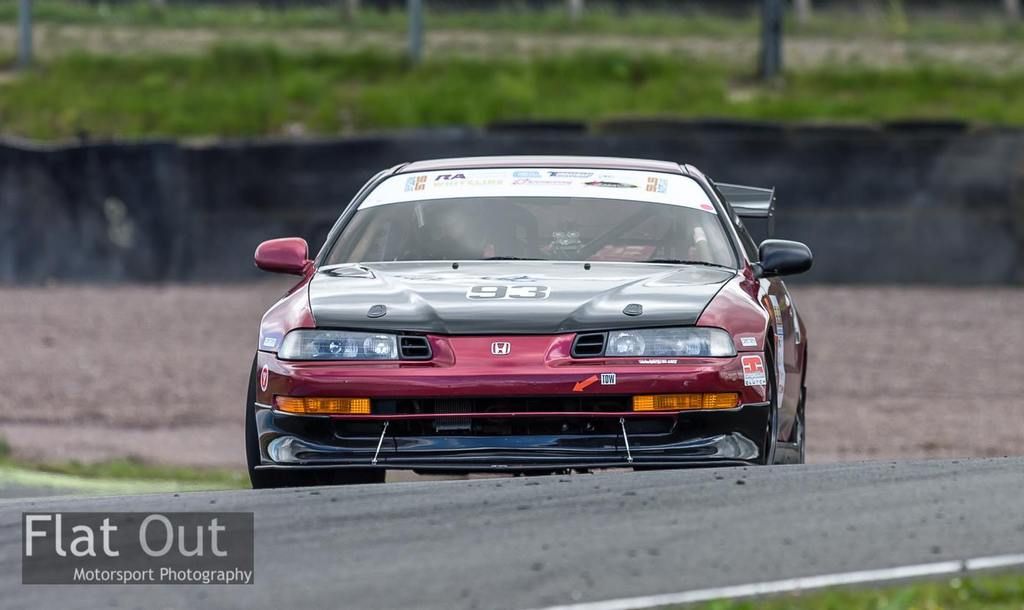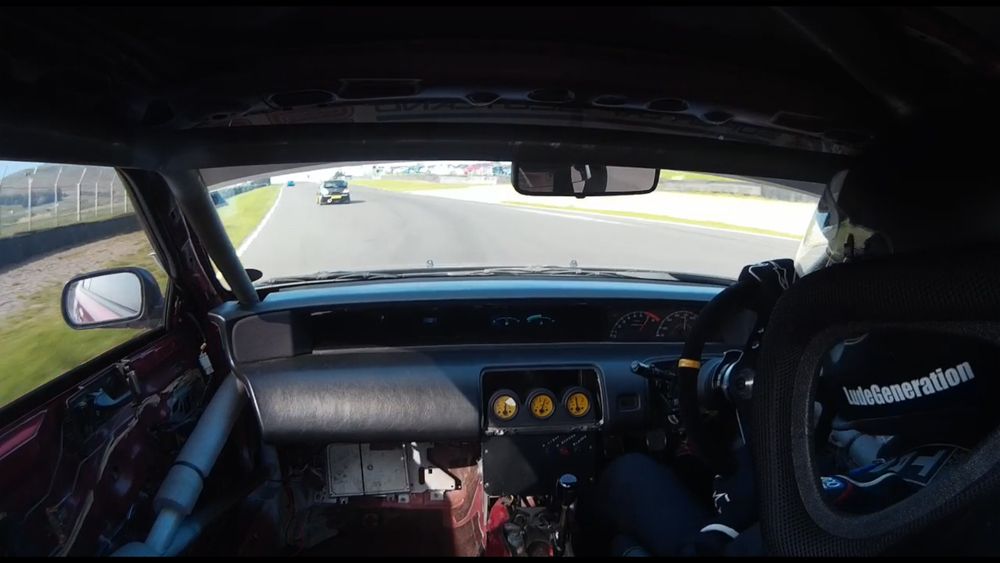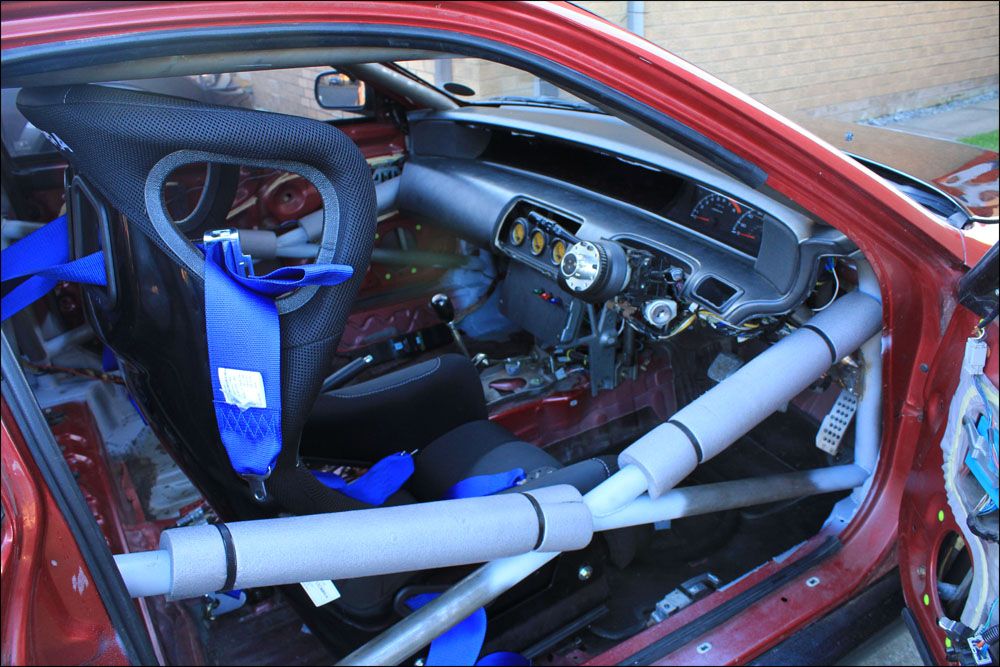 Current Spec:
JDM BB4 SI VTEC. 2WS with no ABS, cruise control or sunroof.
Engine / transmission 2016 Engine:
UK P13 ECU / JDM P30 ECU with Hondata S300 mapped for 99RON fuel
Heat Wrapped Cold induction piping with Apexi Super Intake Filter
Red top H22a8 from the UK 99+ (11:1 comp, OEM upgraded cams, 62mm TB)
Manual H23 timing belt conversion
4th gen windage tray
4th gen Performance Autoworks baffled sump
FITV delete
EGR delete
4th gen engine loom
4th gen injectors
4th gen ancillaries (dizzy, VTEC solenoid, alternator etc...)
Hondata intake manifold gasket
New belts
Magnecor KV85 spark leads
NGK Platinum spark plugs
HAMP oil filter
Walbro 255lph Fuel pump
Innovative Competition 85A (race) engine mounts
Fujitsubo Giken JASMA exhaust manifold
Stainless Creations custom 3" SS exhaust
Custom metal cooling plate
Rover 600 radiator
Aircon delete
Goodridge braided clutch hose & clutch dampener delete
Rebuilt M2F5 gearbox
Synchrotech carbon lined synchros
MFactory 4.64 final drive
Kaaz 1.5 way Limited Slip Diff
Exedy Stage 2 Triple Paddle Clutch
OEM pressure plate bolts
Competition Clutch Ultra Lightweight flywheel
ARP flywheel bolts
Torco MTF fluid and Redline friction modifier
MFactory magnetic gearbox drain plug
Suspension / wheels / brakes:
Innovative Competition front traction bar
MeisterR GT1 coilovers
Engergy Suspension Polybush Master Set
Engergy Suspension Trailing Arm Polybush Set
Front and rear Whiteline Anti-roll bars
Energy Suspension anti-roll bar bushes
Front Energy Suspension anti-roll bar drop link bushes
Spoon Sports front upper strut brace
Megan Racing rear under brace
Megan Racing rear toe arms
5th gen rear upper arms
Rota Torques with 215/40/17 Federal 595 RS-R's
Kosei multispokes with 215/40/17 Uniroyal RainSport 2's
20/61/17 (approx 215/40/17 in road size) Michelin full slicks
1" brake master cylinder from a Prelude with ABS
Motul RBF600 brake fluid (Super DOT 4), used for clutch fluid as well
Ksport 8 pot calipers with 330mm fixed 2-piece discs
Carbotech XP8 front pads
OEM rear caliper
Ferodo rear discs
Mintex MDB1564 rear pads
Braided brake hoses
Race Engine currently in storage:
JDM P30 ECU with Hondata S300 mapped for 99RON fuel
Skunk2 68mm Pro Series throttle body
Accord Type-R Inlet Manifold port matched to 68mm throttle body and Intake Ports of Head
Hondata intake manifold gasket
Mr-Gasket Fuel Rail
Toyota Eclipse 450cc injectors
Walbro 255lph Fuel pump
JDM H22a
Ported & Polished P13 Head
Sprung LMA's
Radius Angled valve job
Skunk 2 Stage 2 Pro-series camshafts
Skunk 2 Dual Valve Springs
Skunk 2 Titanium Retainers
Skunk 2 High Compression Stainless Steel Flat Face Valves
Skunk 2 Pro-series Adjustable Cam Gears
Mahle Gold Series 11.5:1 Compression Pistons
Forged Eagle Rods
Kaizenspeed Balance Shaft Removal Kit
ARP Head & Main studs
Manual H23 timing belt conversion
New belts & water pump
Magnecor KV85 spark leads
NGK Platinum spark plugs
HAMP oil filter
Mocal thermostatic sandwich plate
Mocal 16 row oil cooler
Mocal braided oil hoses
MFactory magnetic sump plug
EGR delete
EVAP delete
Exterior:
Value Sports Type 1 replica front lip
ARP Performance Carbon Fiber Splitter
Universal carbon rear wing
Aztec spats
Honda OEM Euro/Bubble side skirts
VIS Carbon bonnet
Aerocatches
TRS Black towing strap
New black drivers wing with random stickers + Studio Rarekwai sticker bomb book 1
One piece headlights
One windeflector on the drivers side
Electric folding mirrors
Dark glass side and rear windows
Aerial smoothed
Rear wiper removed
MyLaps AMB 260 Timing transponder
Interior:
DubDoctor custom MSA spec 6 point rollcage
Cobra Evolution carbon race seat
Cobra Monaco steel frame passenger seat
Cobra seat brackets
2 x TRS 6 Point Magnum Harnesses, 3" shoulder & 3" lap straps
ETB oil pressure, oil temperature, water temperature yellow face gauges
C's Racing short shifter
Skunk2 replica black titanium weighted gear knob
Generic short steering boss
B-G quick release steering boss
Suede 350mm deep dish steering wheel
Custom center console switch panel with switches for rain light, rear demister, front blower, and fog light.
Mugen replica pedal covers
Generic helmet hammock
12V 3" ventilation blower with 3" piping
LED strip light on the roof
I started getting in to track days in the summer of 2010. I was using my 5th gen but soon realised that it puts a lot of strain on the car and didnt want to do that to my daily driver. In October 2010 I picked up a cheap BB4 SI VTEC: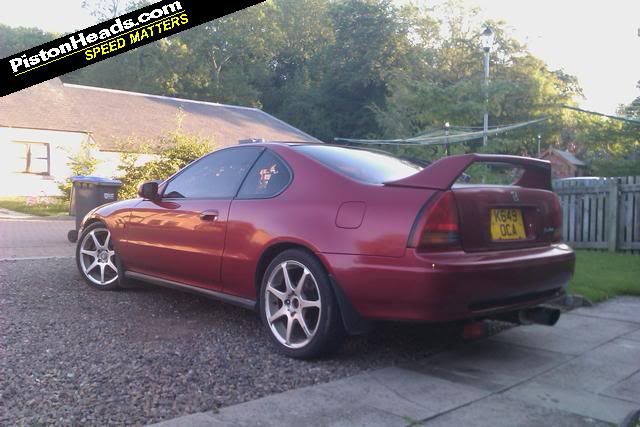 The car came with an original Spoon Sports ECU, Fujitsubo manifold, Spoon Sports rear strut brace, and a massive fart can exhaust. However I didnt notice during the viewing that the engine had been swapped to a UK H22a2
The H22a2 doesnt have (or didnt have one installed during the engine swap) a knock sensor, so that was throwing a CEL.
First thing I did to the car was change the exhaust over, it was a horrible noise. I picked up a cheap JapSpeed 2.5" cat back and Decat and slung it on. When going to install it I noted part of the old cat back was still there, at one time the car had a full Fujitsubo exhaust
. What was on the car looked to be some home made exhaust: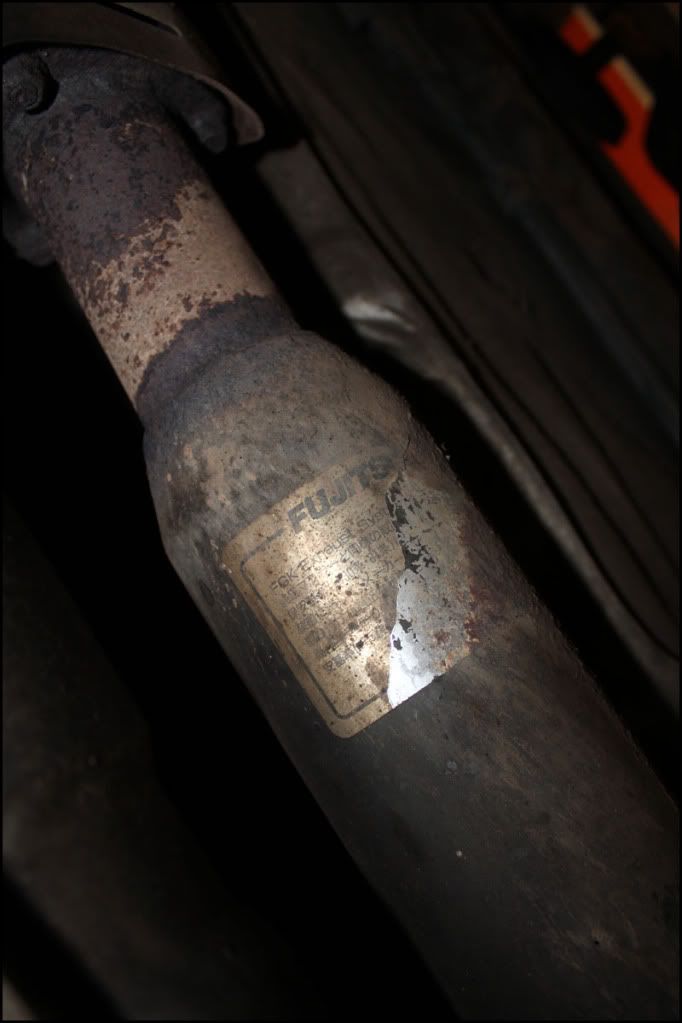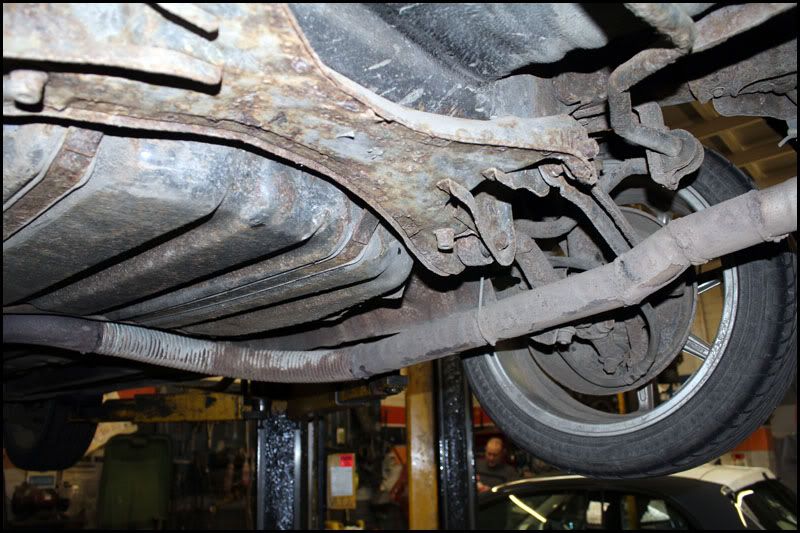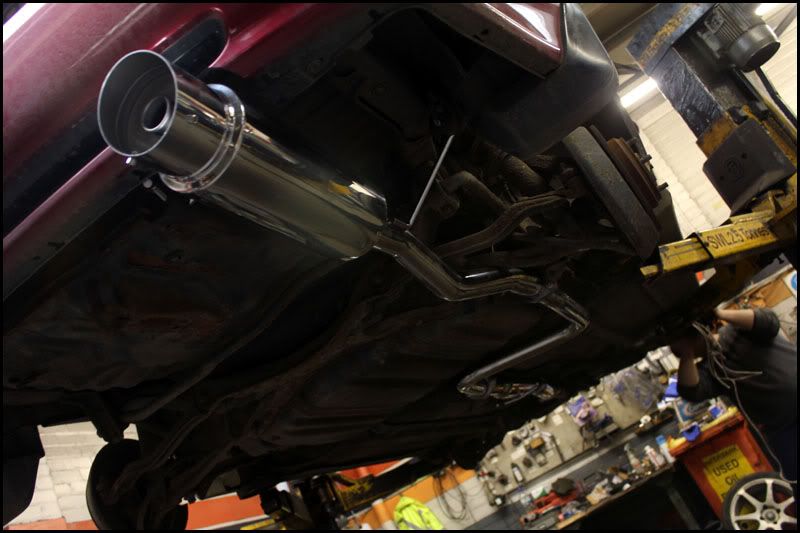 I weighed the car before I did anything major to the car, it weighed 1250KG with a full tank of fuel.
Now that the exhaust was "sorted" I had to get it on the dyno to see what power I was getting. With the resonator recently removed, plus the new exhaust, the car made 199.0 BHP
Not bad IMO when the H22a2 should be 183 BHP.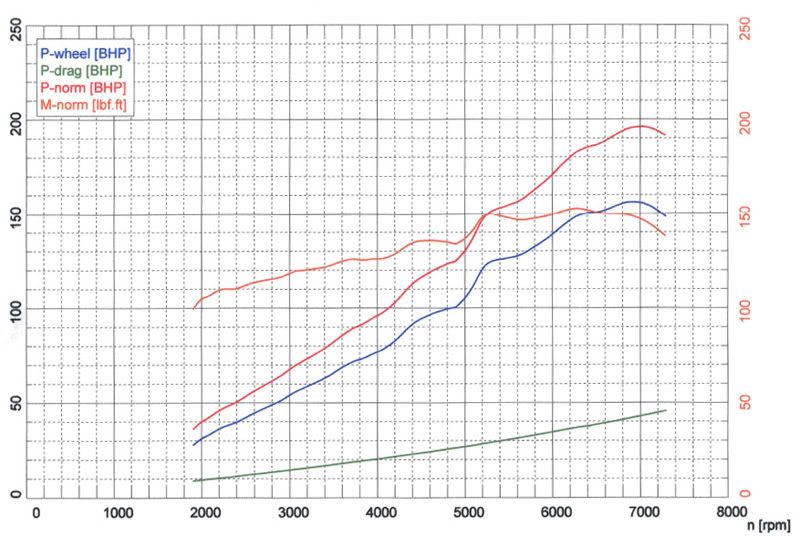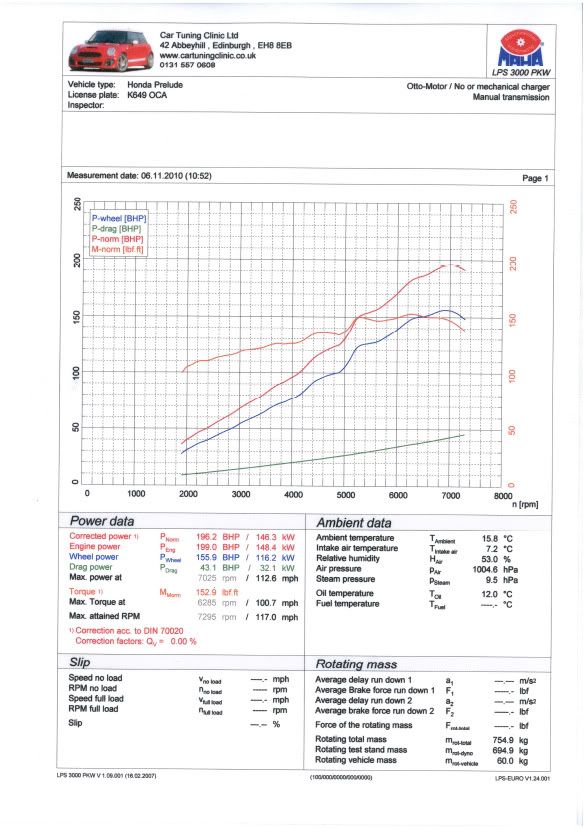 The sound on this video get distorted at the end as its so loud.
Specs at the time of the dyno:
Engine / transmission:
UKDM H22a2
Spoon Sports JDM P13 ECU - VTEC @ 5K (no limiter)
NGK Platinum spark plugs
Amsoil synthetic manual gearbox fluid
HAMP oil filter
Petronas Selenia 5W-40 ACEA "C3" oil
K&N Flat panel filter with resonator removed
Fujitsubo exhaust manifold
2.4" SS Japspeed decat
2.4" straight through SS Japspeed exhaust
Most of the interior was taken out, a job that is still continuing now, the dash will come out eventually.
Back of the car
Roof
Front of the car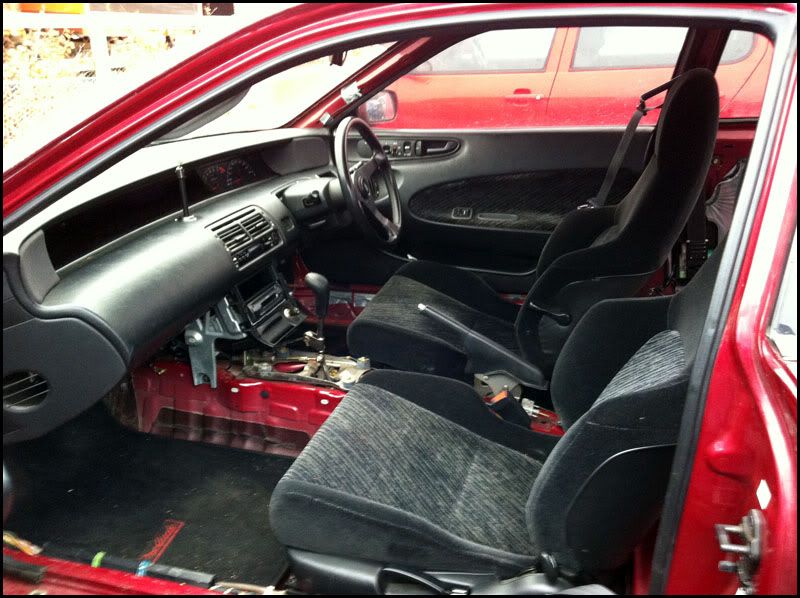 It needed new front lower ball joints and new shocks as the old ones were blown. Suspension has always been the issue with this car, basically its always been jobby.
Out on track
Other little bits were done to the car by this point, all the air con was removed, braided clutch hose, new rad, Hawk HP+ brake pads, RainSport 2 tyres and Michelin full slicks.
Then in may this year I had the 4G at a track day and snapped two fron t wheel studs while changing a wheel
and its been laided up ever since.