I got this brand new in April 2011 and the idea was to have it for its 3 1/2 year hired purchase before i change van for either a new Reflex silver Vw T5 or a Ford Transit Custom (i think thats what they are moving to).
Anyhow i have grown quite accustomed to it so i have decided to keep it and buy on the last baloon payment in september this year.
Now lets pimp it.
So its a
2011 Plate VW T5 T26 84ps Base spec.
Colour is Grey hite R902 (yellower varient)
No Electric Windows
No AC
No Fogs
No bulkhead
84Bhp & 160lbft (same as a Ludes but way lower down the rev range)
Its a great van. Really does handle like a heavy car.
As or March 2014 it has 73000 miles on it.
Serviced every 12k. Just had its belts and water pump done.
Only issue is the central locking in the cold winter sometimes has a mind of its own. Very common. And the radiator broke at around 40k.
Here it is as of 2014.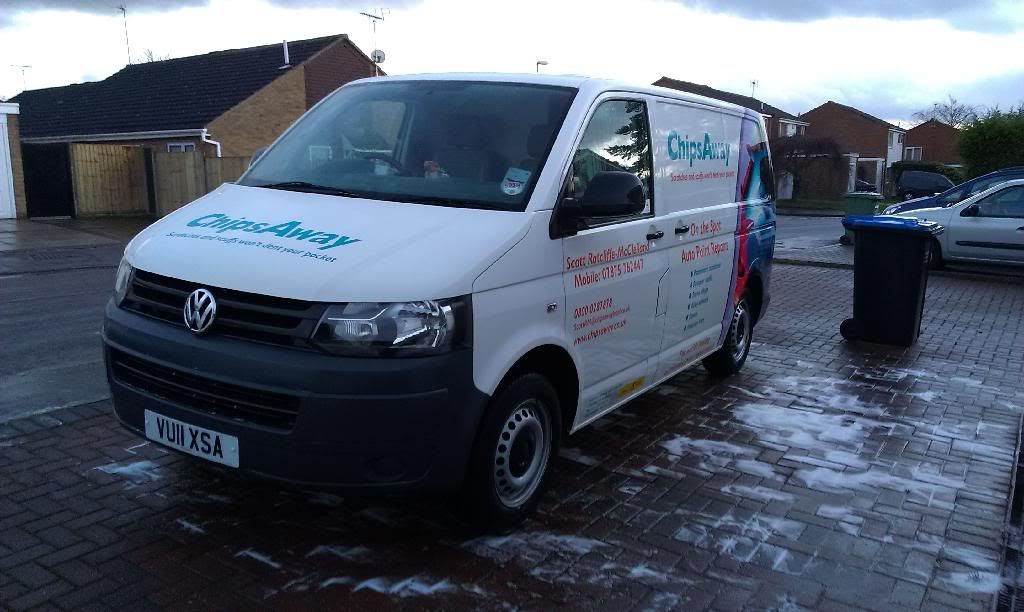 Yes thats damage. Hit and run on the tailgate and a dent in the door. No biggie. Will get a new tailgate soon and respray that. Tonnes of oversppray on the van from working. But ill clay it and wax it to reduce overspray sticking. Not done that yet since owning it due to workhorseness.
The Plan.
Add
Electric WIndows
Fog Lights
LED Daytime running lights in the front bumper trims
HID Projector retrofits.
Sportline Front splitter
Sportline rear spoiler
Sportline gloss black grill
Sportline rear lights
Remap to 130bhp and 230lbft and more MPG
Slammed 70mm on Bilstein B14 coilovers (£1000
)
Banded Caravelle Steels all around.
Leather interior
Make a full bulkhead
Full sound deaden the cabin and audio install.