CURRENT PICTURES taken 23rd July 2018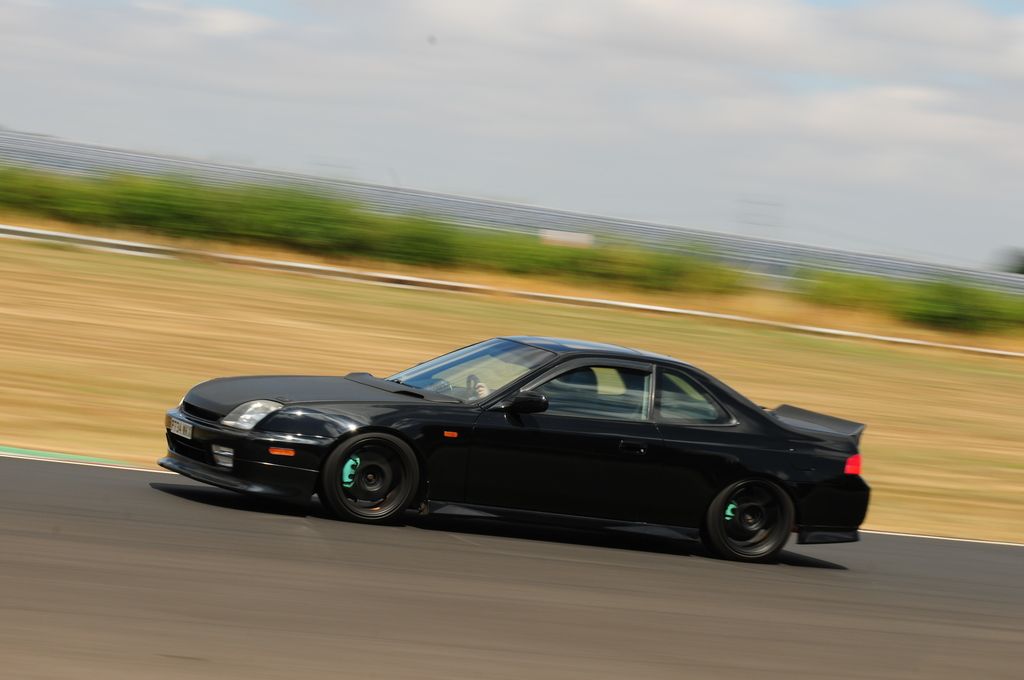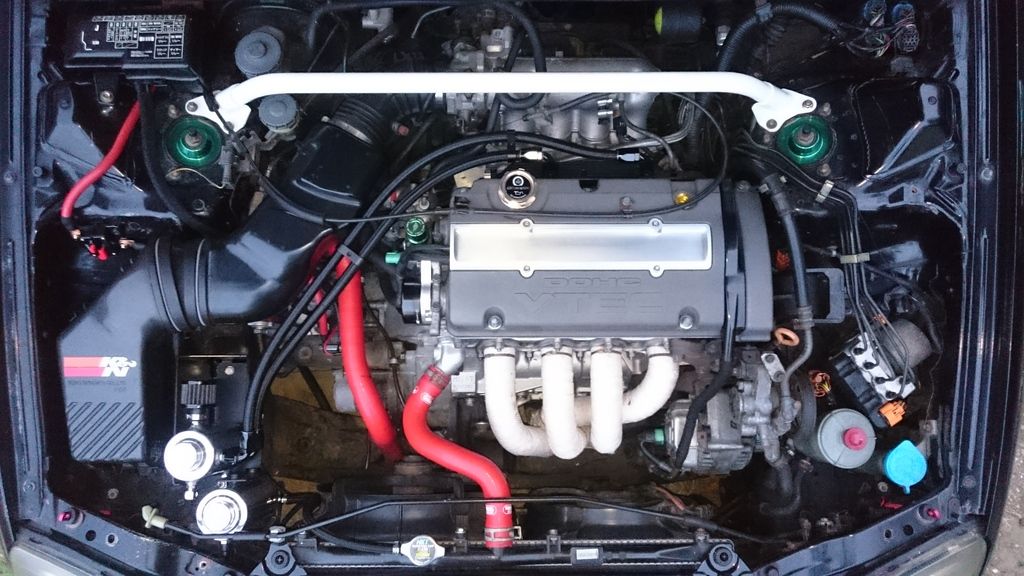 +257bhp@8300rpm & +169lbft Torque@7800rpm.
Tuned by Rich Voaden at
Performance Autoworks
.
Engine Spec:
AEM V1 Engine Management System (30-1060)
H22a7 PDE Head with Full Race Port & Polish and Valve Job
Skunk2 Pro 2+ Camshafts
AEM Tru-Time Cam Gears
Brian Crower Stainless Steel Flat Faced Valves (STD Size)
Brian Crower Titanium Dual Valve Springs
Brian Crower Titanium Retainers
Brian Crower Valve Guides
Honda H22a7 Stem Seals
Honda H22a7 Spring Type LMA's
Skunk2 Cam End Seal
H22a7 Block
H22a7 11.0:1 PDE Pistons with Modified Valve Pockets
KaisenSpeed Balance Shaft Delete
King Racing Main Bearings
ACL Racing Rod Bearings
ACL Thrust Bearings
Performance Autoworks Baffled H22a7 PDA Sump
ARP Head Bolts
Gates Timing Belt
Honda H23 Manual Tensioner Conversion (Modded to prevent too tight a belt)
HAMP Shortie Oil Filter
AEM Engine Position Module (30-3255)
Denso K20 Coil Packs (From an EP3)
Custom Billet Coil Pack Retainer Plate
NGK Platinum Sparkplugs
Honda S2000 Injectors (360cc)
Rosko Racing Thermal Inlet Manifold Gasket
Modified Valve Cover (with AN-8 Fittings) Venting to...
Modified Weapon-R Oil Catch Can (with AN-8 Fittings)
Weapon-R Radiator Overflow Tank
Honda Type-S Intake with K&N Panel Filter
Mugen Exhaust Manifold & Downpipe (Heat-wrapped)
Mugen Twinloop Exhaust
Custom Decat
Mobil 1 Motorsport 10w60 Oil
Innovative Mounts Engine Mounts (All 4, 60A)
Aircon Delete
Resonator Delete
EGR Delete
Carbon Canister Delete
No Cruise Control (From Factory)
No Traction Control (From Factory)
Gearbox Spec:
U2Q7 LSD (From an Accord Type-R)
Honda Accord Type-R Clutch
Fidanza Light Weight Flywheel (3.6kg)
Goodridge Braided Clutch Line (Dampener Delete)
MOTUL RBF 600 DOT4 Fully Synthetic Racing Brake Fluid
Honda MTF3 Gearbox Oil
Wheels, Brakes & Suspension Spec:
5Zigen FN01R-C 17x8.0J ET43 Rims
Weds Sport Racing SA90 17x7.5JJ ET43 Rims
Uniroyal RainSport 3's 215/45r17 Tyres
Mugen Security Wheel Nuts
Tein Street Flex Coilovers
Fully Poly-Bushed with Energy Suspension
Whiteline 24mm Front ARB
Tanabe 25.4mm Rear ARB
JapSpeed Adjustable Rear Toe Arms
Honda Front Upper Strut Brace
Nippon Toys Rear Upper Strut Brace
Ultra Racing Rear Lower Brace
Honda Accord Type-R Front Brake Setup
Black Diamond 300mm ATR Front Discs with Hawk HPS Pads
Black Diamond 262mm Prelude Rear Discs with Black Diamond Predator Pads
Hel Braided Brake Lines
Exterior Spec:
Honda Motegi Side Skirts
Honda Motegi Rear Lip
Honda Bonnet Spoiler
Honda JDM Front Foglights
Honda Wind Deflectors
Honda Factory Tinted Windows
ValueSports Replica Front Lip (BLF-HP97S-PU)
Carbon Fibre Bonnet with Aerocatches
Custom Modified OEM Grill
Custom Ducktail Spoiler
Interior Spec:
Honda Type-S Speed Dials
Honda JDM Prelude Stainless Sill Plates
Honda 5th Gen Prelude Mats
Genuine Recaro SR4 Wildcat Front Seats on Adapted Recaro Rails
TRS Pro Superlite 4 Point Blue FIA Harness (MH540-1502) Drivers Side Only (OEM Seat Belts Still In place)
OMP Corsica Leather 350mm Steering Wheel
NRG Short Hub
B&G 60mm Hub Extension
Custom Carbon Fibre Indicator Stalk Extender
Custom 4th Gen Adjustable Short Shifter with 90mm Extender
Skunk2 Weighted Gear Knob
Mugen Replica Foot Pedals
AEM Air/Fuel Ratio Gauge
Race-X Oil Temperature Gauge
Race-X Oil Pressure Gauge
Manual Fan Switch
Genuine Honda Battery (31500-SP0-031-HE 12V-70Ah 630A CCA) Relocated to the boot
Sealed Battery Box (Vented to outside)
Well I've gone and done it
Pending the up and coming demise of my poor poor 3rd Gen
I've been searching high and low for a replacement Lude. I didn't think there were going to be any other 3rd gens out there that were going to tick all the boxes mine did and none I've seen recently have come close. So it was going to be down to an import 4th Gen, or even possibly this time a 5th Gen!
Although there was going to be some strict criteria if I went down
that
route... It'd have to be an import SiR. It'd have to have an LSD (As would a 4th Gen), and it'd have to be black!
Cue an advert on Gumtree who's title caught my eye and with a description that fulfilled all that criteria and much more!
I got talking with the guy and after a lot of answered questions, pictures and a video I decided to ask Ratty if he could go and check it out for me, being he was a mere 20 minutes away and an absolutely smashing bloke!
Ratty checked it out last night. Thanks Scott. As I said, I owe you a big favour
All sounds great, just slightly slow to fire up initially (which I'm sure will bean easy fix and the paintwork isn't the best. But there's no real rust on it, just a bit of surface rust on the rear arch return lip, which I'll remove straight away, and after what happened to my 3rd gen I'm kind of happy that it hasn't got immaculate paintwork anyway
So I've paid the guy as otherwise he had someone else promising to give him the asking price at 1pm today, so I've just got to get up there now... Anyone planning to travel from the South-West up to Leicester any time soon?
Anyway, here's what you've all been waiting for... A picture!!!...