I thought i should start work on a profile for my BB4
Bought in 2000 as a grade 4 import - 1994 Facelift BB4 Si Vtec Lsd 2ws.
1 previous owner in Japan and 34,000miles on the clock.
Current Spec:
Engine / transmission:
Upgraded cams to Type R/S/A8 - (May 2015)
Skunk 2 cam end cap
JDM H22a Engine
M2B4 LSD gear box
Amsoil synthetic manual gearbox fluid
M Factory magnetic drain plug
Spoon Sports V2 copy chip JDM P13 ECU
NGK Platinum spark plugs
HAMP short style oil filter
New Honda battery - (2016)
Type S air intake with K&N flat panel filter-replaced with TenzoR long arm cold air intake May 2018
5th Gen 62mm Throttle Body&Thermal Gasket (Feb 2017)
Intake resonator removed (2012)
FM style cooling plate in anodised red
Hytech Manifold (PLM)and custom 2.5" straight thru stainless steel system (2012)
Mugen replica twin loop exhaust (June 2013)
Aircon removed (2012)
Manual tensioner conversion&Timing belt,balancer belt,water pump and seals (Dec 2012)
Magnecor KV85 red HT Leads
Wrinkle Red refurbed Rocker Cover and new Seals (July 2013)
ATR clutch and skimmed flywheel fitted (Aug 2013)
Koyo Racing Radiator (53MM core) with 1.3 Bar Hyper Cap. OEM UKDM fan (June 2014)
Suspension & Brakes:
2ws BB4 Chassis
Spoon Sports front upper strut brace
Spoon Sports rear upper strut brace
Koni Sports Shocks and Eibach lowering springs.(2013)
Energy Suspension bushes fitted to all wishbones, anti-roll bars and drop links.(2013)
All LCA's replaced
(2012)
All 4 engine mounts polyfilled.(2013/2014)
New radius arm rubber bushes (2013)
New rear calipers and sliders(2013)
New handbrake cable(2012)
Refurbed front calipers (2014)
Brembo blank front discs & oem pads(2014)replaced with VTTR sports discs and pagid pads (Jan 2017)
Brembo blank rear discs&pads(2013)replaced with Pagid disks and OEM pads (Nov 2014) replaced with OEM disks and Black Diamond Predator Pads (Jan 2017)
Goodridge braided brake hoses(2012)
New Oem 15/16" Brake Master Cylinder (Oct 2014)
New rear knuckles and hubs (July 2015) nearside rear hub slight play so replaced in 2017
Exterior:
R81-Milano Red
Spoon lip and JDM front plate on oem plate holder replaced in Aug 2015
with
Wings West RS front lip and repainted bumper with facelift indicators and nostrils and colour coded fog light bezels and ukdm number plate holder.
Replaced with OEM front bumper and ukdm oem lip May 2018
Euro Bubble OEM sideskirts or wings west sideskirts
Wings West Rear Lip
JDM One piece black backed headlights
OEM Windeflectors - Removed May 2018
JDM Electric folding mirrors
Facelift white Fog Lights - Removed May 2018 due to front bumper being damaged.
Dark glass side and rear windows
Front&Rear mud guards removed.
Carbon Fibre vented bonnet - Milano Red/CF for summer and OEM phantom grey bonnet for winter
New back window lower seal (2012)
New front windscreen and trim (2012)
New passenger door (May 2013)
New front wings with vtec badges below side indicators (May 2013)
Interior:
Custom black and red interior
JDM under dash courtesy lights
JDM infra red central locking
Forbidden Motorosport True short shifter
Honda billet gear knob
Kenwood front & rear speakers (June 2015)-Rear speakers replaced with OEM Panasonic ones May 2018
Dash tweeters (Dec 2014)
Blaupunkt head unit (Dec 2014)
New boot release cable (2012)
Preface centre console rear fog light switch upgrade (2014)
UKDM EL Dials (fitted 1/9/2013)-vtec in 1st and no limiter
Wheels/Tyres
1/ Rota Slipstreams 15x7 in flat black with Bridgestone Potenza Adrenaline RE002's (stock size 205/55/15)
Engine bay pic p uprated engine mounts and hytec replica manifold
pic July 2014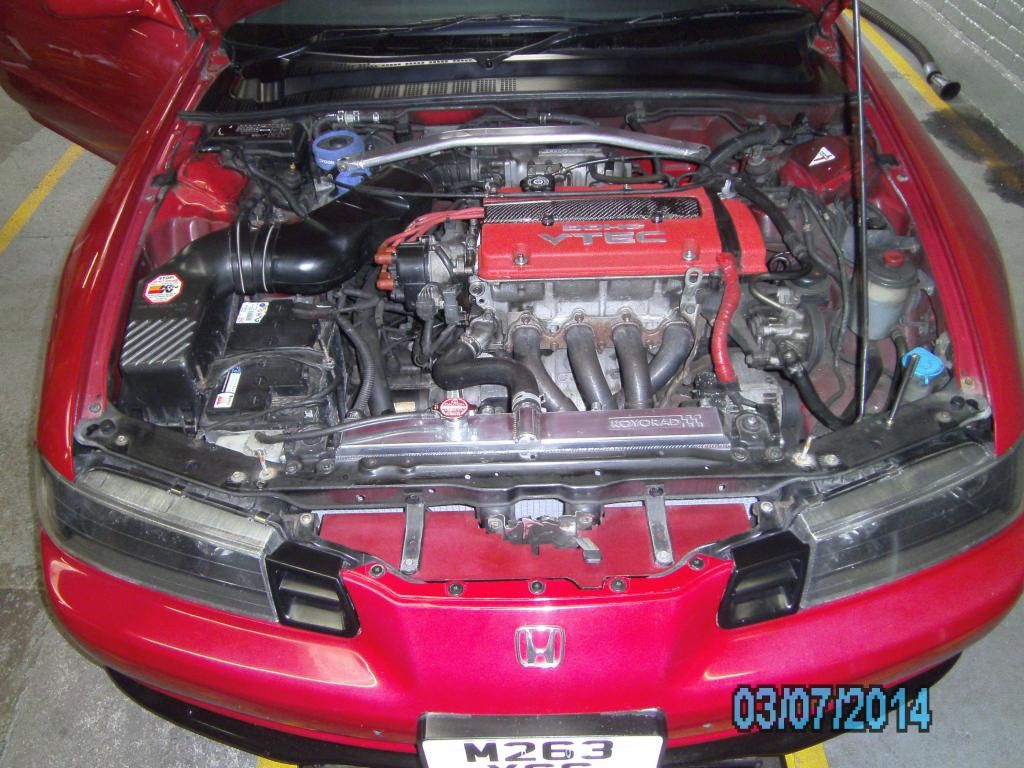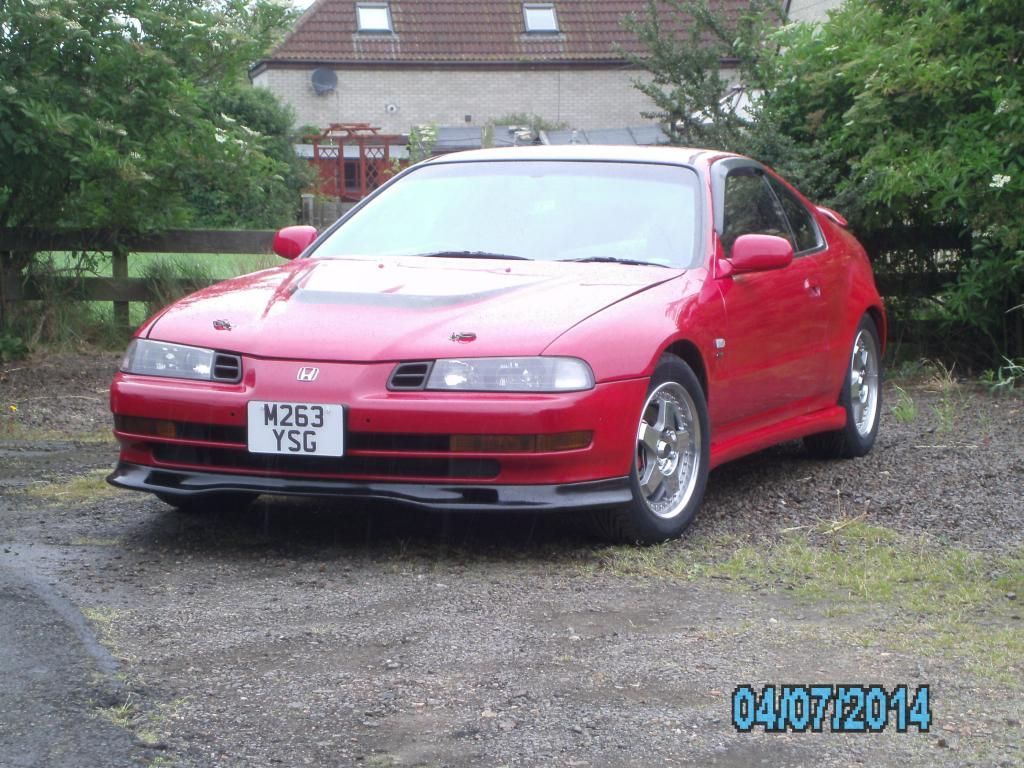 pic at knockill June 2014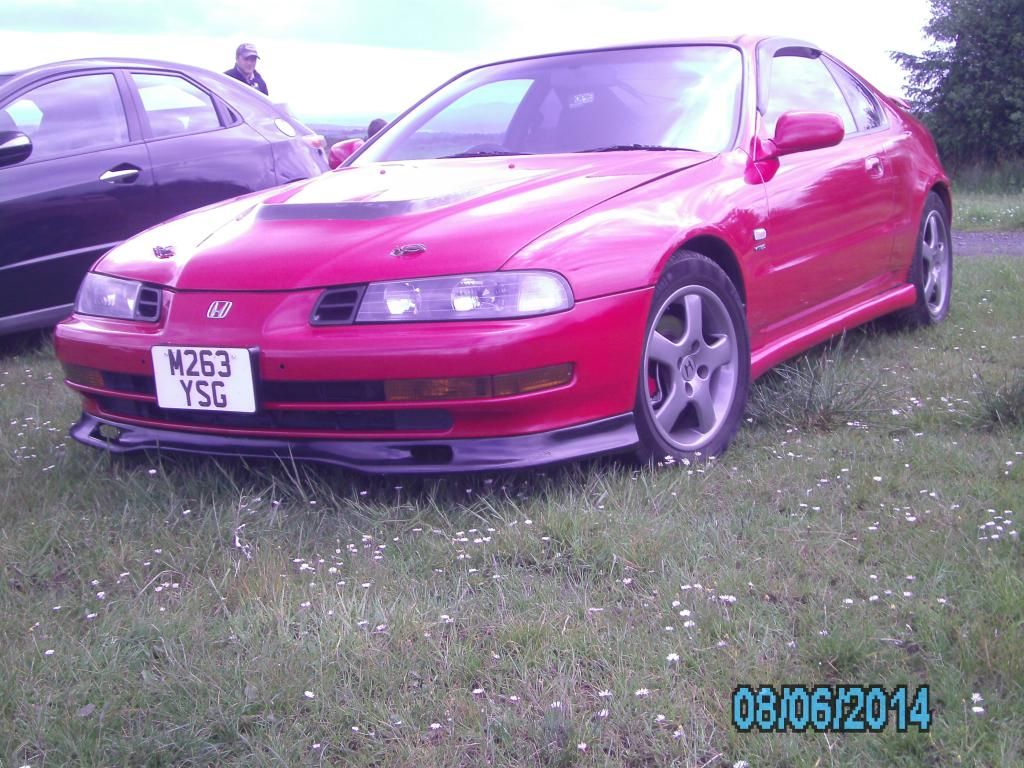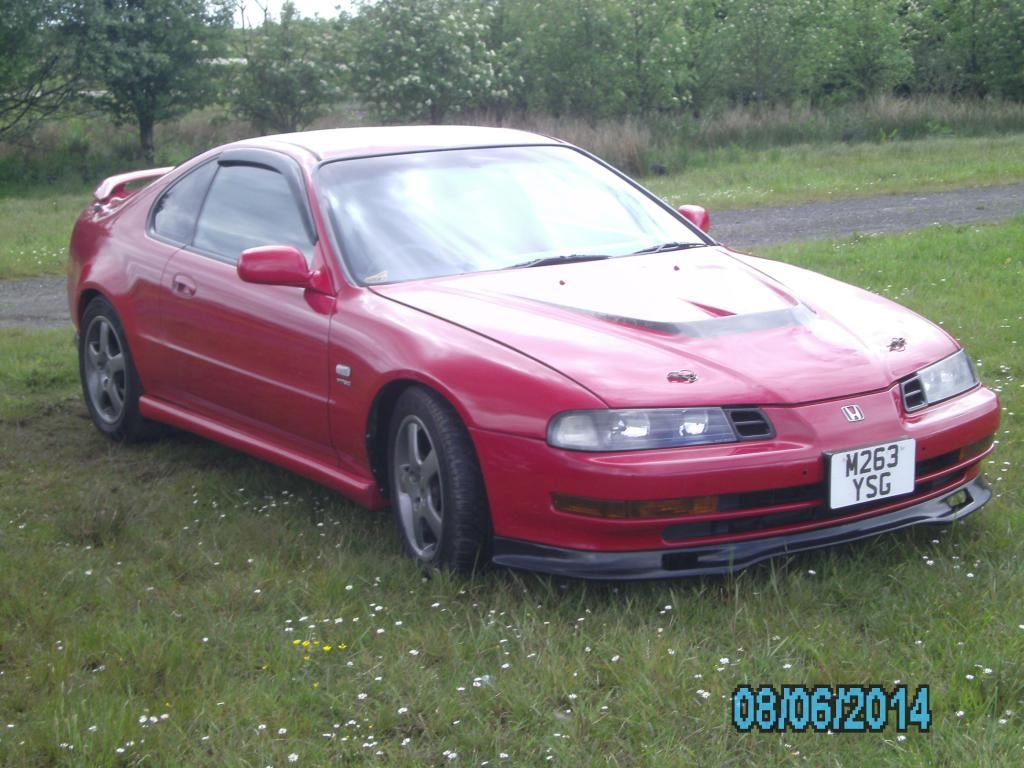 pic May 2013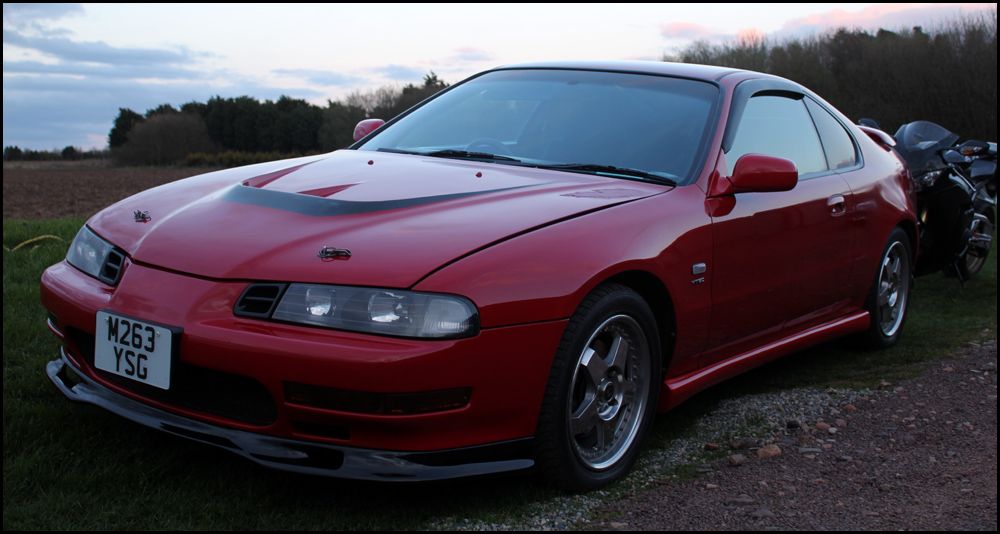 pic 2013 with genuine mugen sides (which i sold in 2014
)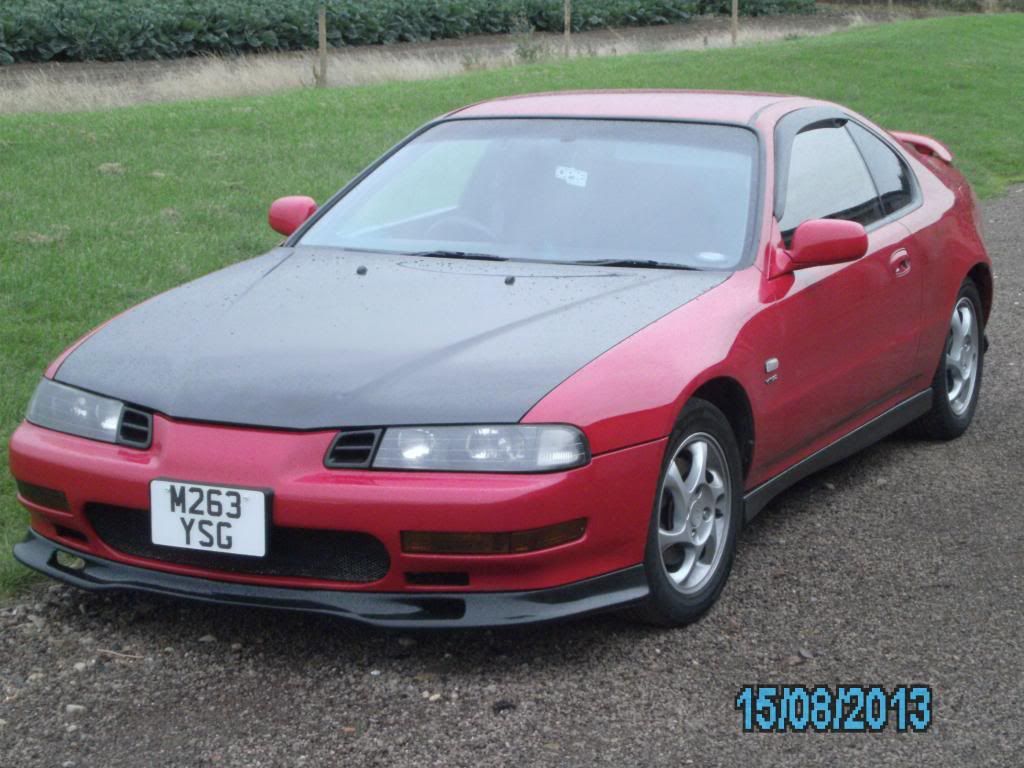 As it was during its hybrid phase
(2010-2012)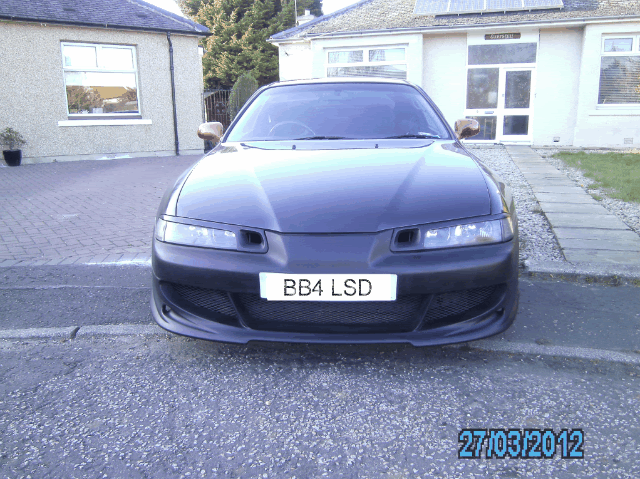 Pic from Japfest 2011 at Knockhill - you might recognise a few of the other
ludes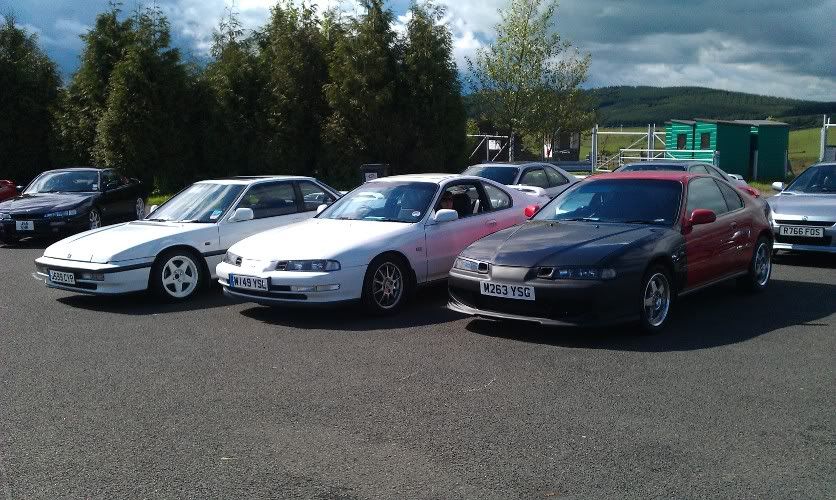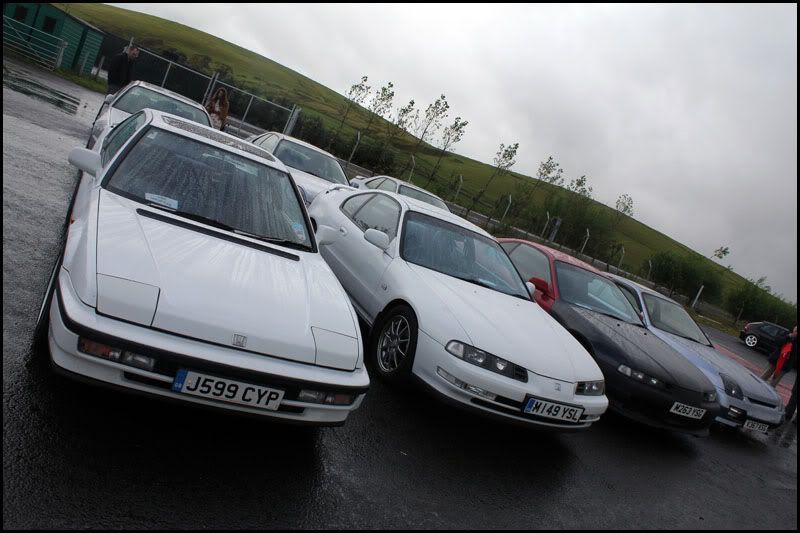 Updated feb 2013-new front end and back to milano red