Here's my experience with Blue Print rear brake pads for the 5G Prelude 2.2VTi.
These were fitted by an independent Honda specialist during March this year while it was in for an ongoing oil leak (long, long story). The prior MOT had noted that the handbrake was inefficient so I asked the garage to coincidentally sort that while they had the car. As always, one of the rear callipers was seizing up. They had to use a blow torch on it, before re-lubing the sliding pins and replacing both sets of rear brake pads due to one side being severely worn down. Rather than fitting OEM Honda pads, they fitted Blue Print, presumably because they could source them instantly.
The biggest difference I noticed over the subsequent months was brake dust. Honda pads give off very little brake dust. Blue Print brake pads, or their rears at least, give off loads. This was very noticeable when washing the car.
This Wednesday, when driving off my driveway after being parked up since Sunday afternoon, there was the usual clink from rear. This is normal, I'm used to it. If parked up for a while, especially after cleaning the car or there's been wet weather, the rear pads stick to the discs, and there's clunk as they let go when driving off. I guess it's superficial rust, nothing to worry about. This time, there was a lot more resistance. Usually the gravity of my car rolling off my sloped driveway is enough, but this time I needed to apply some throttle, but didn't think much of it. However, within a few meters, I could then hear a clunking from the rear and a pulsating through the brake pedal. Inspection with a torch revealed that a chunk of the near-side rear brake pad had stuck to the brake disc.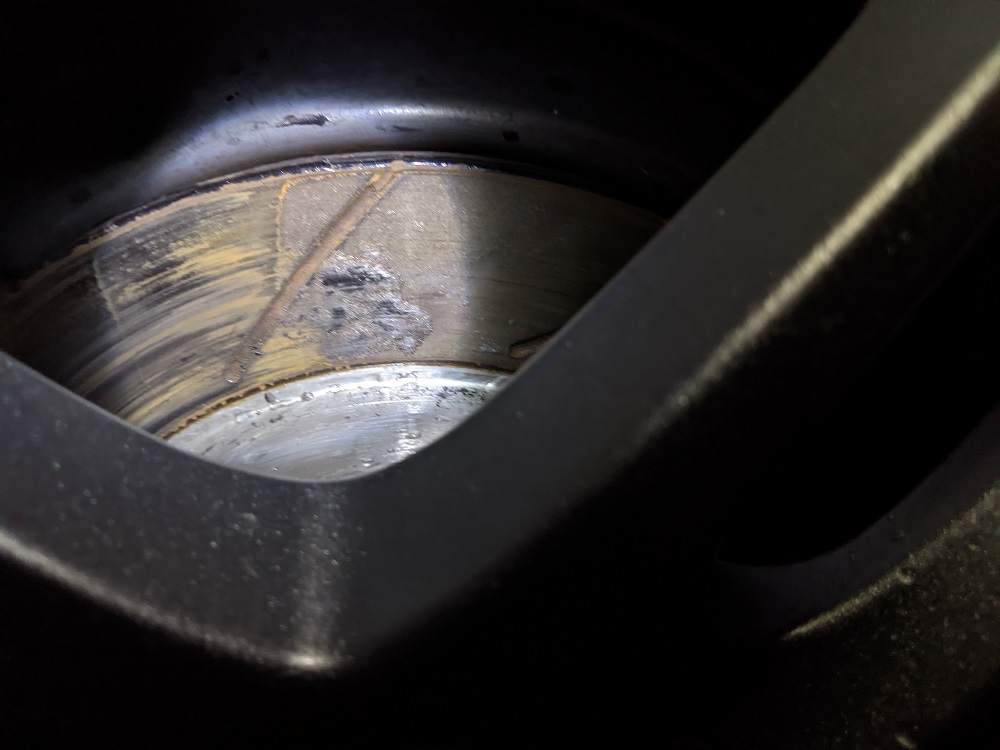 It's surprising how loud the clunking was, I guess what was left of the brake pad had smoothed off the chunk somewhat.
Subsequently, I booked today off work and replaced both sets of rear brake pads with Honda items which I had spare (43022-SV4-A22). Surprisingly, the chunk of brake pad which was stuck to the brake disc chiselled off with ease: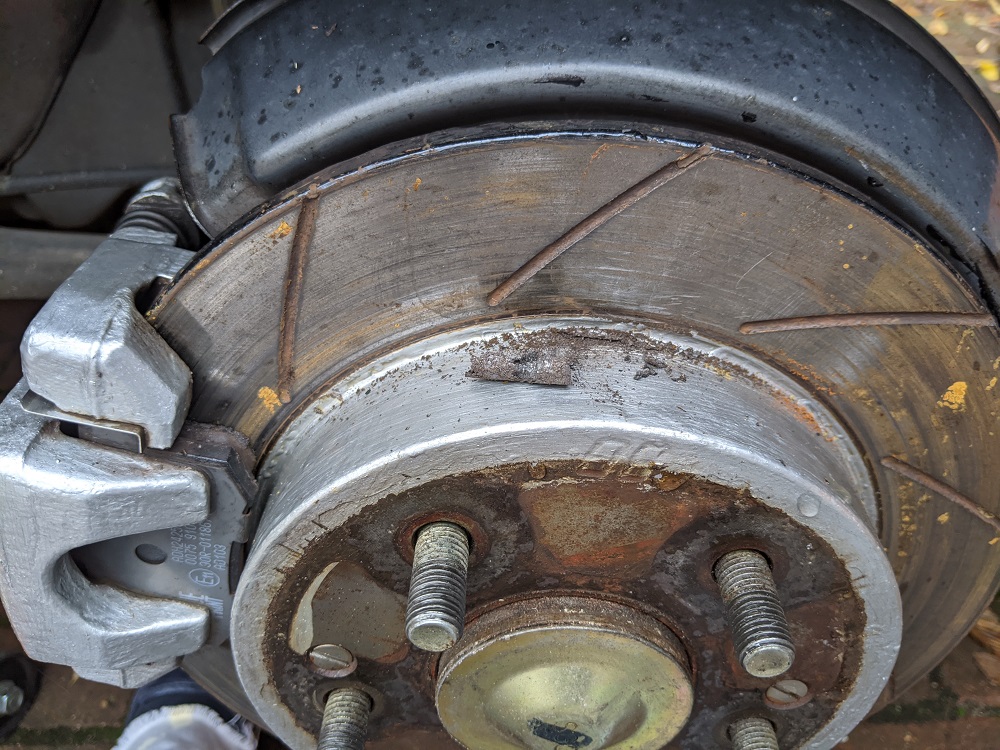 And here's the offending item:
Sadly, the Blue Print rear brake pads only lasted 7 months, no more than 4,200 miles. I haven't got anything against Blue Print products, I've used their rear upper suspension arms in the past which saved me a jobby load of money compared to Honda. However, I'm not impressed with their brake pads, although I do accept maybe I was just unlucky in this instance.